Lake Cargelligo Spring Camp – an Overview
Second visit for the club to this very popular birding destination and we had 19 members attending but the weather was looking suspicious and the Water Treatment Ponds were closed to the public for repairs. Our Activities Officer, Liz, quickly reorganized our schedule to ensure that we got to Round Hill area before the rain, as this area can get very boggy, and set about trying to get access to the ponds.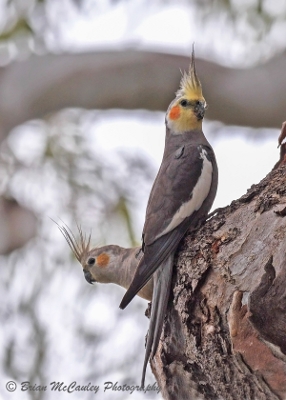 Day 1 we headed off to Chat Alley, no Chats but beautiful White-winged Fairy-Wren and lots of Brown Songlark, on to morning tea at Booberoi Creek Crossing seeing several White-fronted Chats and Mallee Ringnecks on the way. At Booberoi Creek there were lots of Fairy Martins nesting under the bridge and a Little Friarbird was seen. Next stop the railway crossing along Round Hill Road. Here we saw the Crested Bellbird and the Splendid Fairy-Wren and a pair of Red-capped Robin.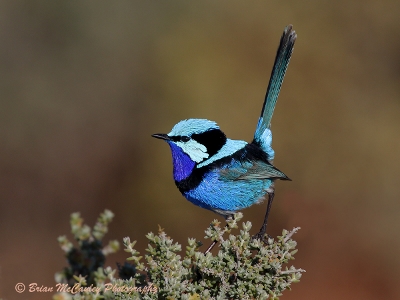 Access along Cactus Firetrail was blocked by 3 very large and boggy mud holes so we didn't quite reach the Old Wheat Paddock but we walked in the Mallee alongside the trail.  Stopping at the southern end of Round Hill Firetrail got a Shy Heathwren for two members and two huge Goanna at a waterhole. We had lunch and then back to the T intersection where I spotted a Chestnut Quail-Thrush but it flew off once all the members approached. The Southern Scrub- Robin were not so shy with a pair flitting about and staying well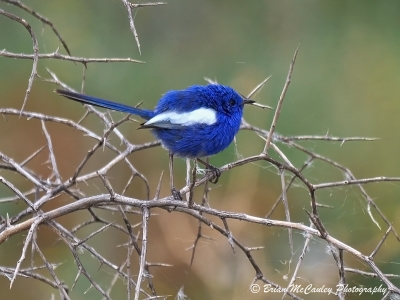 concealed but everyone got a look, some better than others but a great sighting of an uncommon species. The reason for the full day was to get to Whoey Tanks late in the afternoon and we rolled in just before 3 pm. It was amazing. Birds were everywhere. We saw Pied and Black Honeyeater, White-winged Triller, Black-eared Cuckoo, Budgerigar, White-fronted Chat, Striped Honeyeater and a lucky glimpse by some of the Crimson Chat just to name a few. All the members were completely blown away by this location.
 Day 2 was the reverse so we started with early morning Chorus at Whoey Tanks and went back through the Round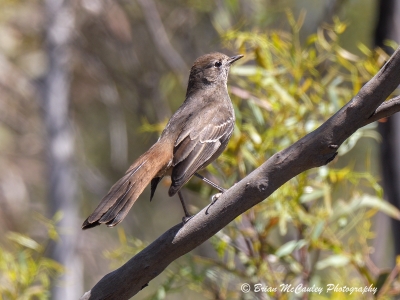 Hill Reserve with lunch at Booberoi Creek but there was not a lot of difference in the birds seen. Afternoon was definitely the best time for Whoey Tanks
 Day 3 we birded the perimeter of the Sewerage ponds and got Mulga Parrot, Red-rumped Parrots, Zebra and Double-barred Finch, Purple- backed, White-winged, and Superb  Fairy-Wren and glimpses of some waders on the ponds. Liz had already sent an Email to the Authorities but they said they could do nothing but a local stopped and talked to her then rang his wife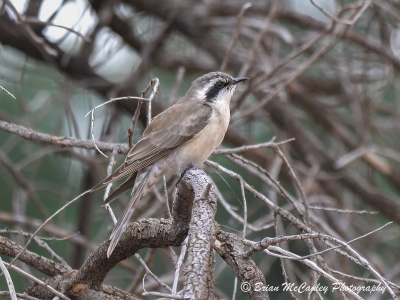 who runs the Tourist Centre and she pulled strings and got the gates opened for us on Thursday afternoon. She promised they would stay open for the duration of our visit. Next stop Leckie C Hide for morning tea. Nesting Cockatiel, lots of Reed Warbler, Darters, Pelicans, Cormorants and distant Egrets were all recorded. Moving on to Curlew Waters for lunch and this is a great spot. We saw lots of Whiskered Terns skimming the water, Cockatiel in their nesting hollows, Budgerigars, Cormorants,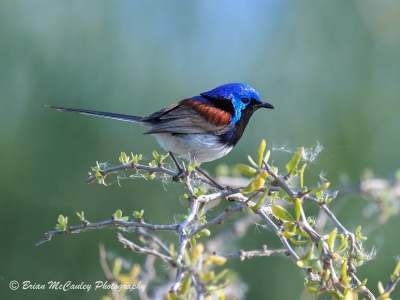 Herons, Egrets, Pelicans and even huge turtles sitting up on logs.
 Day 4 saw us travelling along Lachlan Valley Way to the river crossing at Wallanthery but it was a very early start and really cold so there were few birds to see. We were looking primarily for the Red-Lored Whistler along Marooba Firetrail but with no luck. Lots of other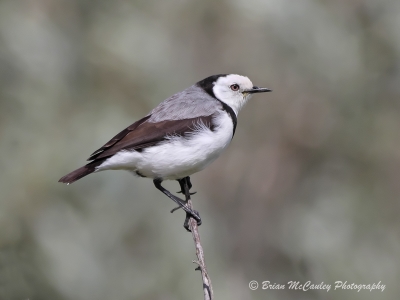 birds were seen, Red-capped Robin, Western Gerygone, Spiny-cheeked Honeyeater, Rufous Whistler and it was also a good site for morning tea. We had lunch at Mount Hope Pub and got a great close up of Major Mitchell Cockatoos then headed back along Tipping way to the T intersection for another look for the Scrub Robin and home via Round Hill & Chat Alley
 Day 5 was a great morning on the Treatment Ponds, having opened at 3 pm the day before and this is always the main highlight of any trip to Lake Cargelligo. We saw Mulga Parrot,  Red-kneed and Black-fronted Dotterel, Avocet, Black-winged Stilts, Whiskered and Gull-billed Terns, Hardhead, Grey and Chestnut Teal, Australian and Hoary-headed Grebe, Beautiful Purple-backed and White-winged Fairy-Wrens, Red-Rumped Parrots, lots of nesting Cockatiel, Baillon's Crake, Spotless Crake, Little Grassbird and Zebra Finch to name just a few. Using the spotting scope we were able to identify the lone Shoveler amid all the Pink-eared, Grey Teal and Pacific Black Ducks. Next stop was the Brewster Weir for morning tea and lunch where the highlight was a pair of Glossy Black Cockatoos feeding on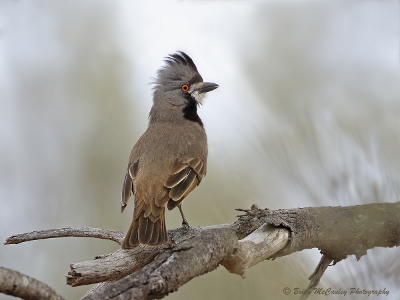 the Casuarina nuts.
 Day 6 was a new site for the club but the actual Nature Reserve at Naradhan had been absorbed into their new tip so making the best of a bad start we just chose a spot at random and birded the bush. It turned out to be a great morning with over 30 species recorded Including Robins, Triller, Inland Thornbill, Golden and Rufous Whistler, Western Gerygone and Songlark. After morning tea we moved on to Bootoowa Road in The Yelkin State Forest where a firetrail follows adjoining property. We had hoped to get the Speckled Warbler but were very happy to get a clear viewing of the Splendid Fairy-Wren and the Inland Thornbill. It was a free afternoon and most members went back to the Treatment ponds.
 Day 7 was the last day and we set off for Lake Cargelligo Weir where we saw lots of Cockatoos and Parrots,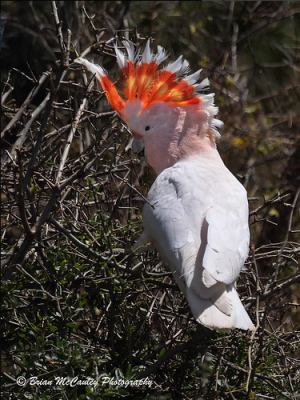 Cormorants, Pelicans but not many small birds. We watched a family of White-winged Choughs building a nest and pondered over the identity of a distant Egret which proved to be a Plumed Egret. On the way to Euabalong there were lots of Ringnecks, Cockatoos, Galahs and Red-rumped Parrots feeding along the road and at the Euabalong Picnic Ground we saw White-plumed Honeyeaters and Pied Butcherbirds and Cockatoos drinking from logs protruding from the river. After morning tea we set off for Booberoi Creek Crossing at Greys Bridge near West Euabalong but it was hot and apart from Sacred Kingfisher, Little Friarbirds and Rufous Whistler not much was about. We returned to Euabalong Picnic Area and had lunch and returned to Lake Cargelligo to prepare for dinner. Dinner was held at the local Bowling club which served an excellent Chinese Menu and a great time was had by all. We said our farewells as people were leaving the next day at different times. It had been a really great outing with 145 species identified, 44 of those not on our local list
Brian McCauley
CLICK HERE FOR VIDEO OF LAKE CARGELLIGO BIRDS