What's New and Exciting?
All day free access to a Climbing Rock Wall for kids.*
Challenge the kids to free turns on the exciting 3-way bungee amusement.*
*Age and weight restrictions will apply.
Pet Competitions
Bring your pet along to be judged for; Best Dressed or to perform their favourite trick or dress up your pet to look 'the most like its owner' or free wheel into the anything goes section. Or maybe take out the overall Champion Pet.
Doggy High Jump
How high can your pooch jump? Why not find out by entering her / him in the Doggy High Jump competition.
$50 cash prizes for the Big and Small dog classes, entry free.*
*All dogs entering the Showgrounds must be controlled on a leash.
*Only one dog may be entered into either Class by an owner.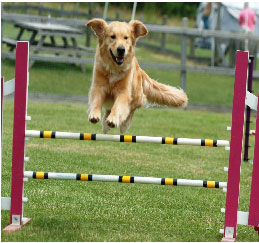 PLUS
Sideshow alley this year includes a Ferris wheel along with the Dodgem cars & Laughing Clowns
One of the largest Show Dog competitions in country N.S.W. happens at our Show, taking place on the Aub Ferris oval from 9am.
Lawn Mower Races
How fast can your mower go? Come and see demonstrations of hotted up ride-on mowers doing burnouts and laps throughout the day.
Demolition Derby
A huge Demolition Derby, with record entries, starts from 6pm in the Show ring.
and Fireworks
Finish off a spectacular day with a huge fireworks display commencing at approximately 8pm.
See you at the Show, Gates open 8am