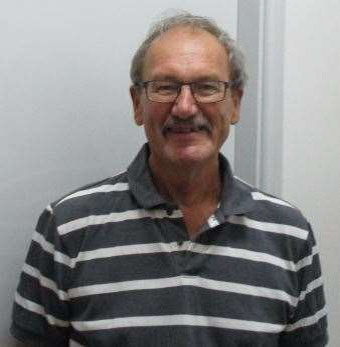 From 'Across the Fence' – June 2018
We made farewell to Tim Gething on May 1st, after a long battle with his health.
Tim was instrumental in the establishment of the Community Technology Centre (CTC) in Nabiac and taught there for many years.
A sad loss of one of life's Nice Guys far too early.
He will be missed by all who knew him.
From Jillian and Sheila at the CTC
We were lucky to have Tim in our community, and The Tim Gething Community Technology Centre owes its existence to Tim's expertise, dedication and hard work.
It took several years of planning to get the CTC off the ground, and it wasn't until Tim joined the committee in 2003 and managed the technical side that we were able to eventually open. Not only did Tim take on the technical set-up, but he did the necessary carpentry, painting and furnishing to make the centre user-friendly. Later as Treasurer, he liaised with government departments for further grants.
He set up Internet Cafes at Nabiac Take-Away and at Wootton Brush Turkey Café, at a time when most travellers did not have mobile phones with internet connection.
We had various managers over the years, but Tim, with his ongoing commitment, provided consistency. He also ran weekly Seniors Classes on Tuesday mornings. Tim kept volunteers and clients well informed on advances in technology, on security issues and computer trouble-shooting. Any money he earned from consultancies, he donated to the CTC.
We miss you, Tim; we will miss your cheerful encouragement and enthusiasm.
From Lindsay
Tim Gething died on 1st May this year. As his wife, I have been asked to write a short account of his life.
He was born in England and moved to Melbourne in 1959 with his family. He went to school in Victoria and then went to the University of Melbourne, where we met.
Early in our marriage, he was offered a position in a computer company. He stayed with the same US-based company for his working life, beginning as a systems analyst and ending as CEO of the Asia-Pacific Division.
After we both retired, we decided to leave Sydney and move to Dyers Crossing. Tim often said that this was the best decision we ever made. He relished living in the district and liked its people and community spirit. He made many friends and used his computer skills in many ways to assist the community. He was instrumental in the establishment of the Community Technology Centre (CTC) in Nabiac and was treasurer for many years. He also ran classes and had many other responsibilities associated with the successful operation of the CTC.
In early 2018, in recognition of his contribution, the CTC was renamed the Tim Gething Community Technology Centre. Tim enjoyed sharing his skills with others and providing computer support. He helped many people on a one-to-one basis and established and maintained the websites of the Nabiac Futures Group and the Wallamba District Agricultural and Horticultural (Nabiac) Show. He also provided on-going computer support essential for the publication of this newsletter, "Across the Fence". Additionally, he was active in Dyers Crossing Landcare Group and for many years was treasurer for two organisations: the Nabiac Neighbourhood Memorial Centre and Karuah Great Lakes Landcare Group.
Tim is deeply missed by his family: me, his wife; his son, David; his daughter-in-law, Trilby and granddaughters, Amelia and Madeleine.
Furthermore, Tim's goodwill, humour and generosity spread through-out the community and the region. He will be missed by all those whose lives he touched.
From Robyn Lamond in Landcare
Tim Gething contributed significantly to local Landcare for over a decade
Lindsay Gething recalls how much Tim assisted her and others in the preparation of 2 publications from Dyers Crossing Landcare, both published in 2005; a cookery book and a tree identification book. Tim took on the massive task of formatting the books which was completed very professionally. Common Indigenous Trees of the Wallamba Valley and surrounds remains a valued reference. Both books are still available from the Landcare office in Nabiac.
In 2005, after already serving on the committee of Dyers Crossing Landcare, Tim took on the role of Treasurer and Public Officer of the Landcare network, Karuah & Great Lakes Landcare (KGLL). Under Tim's guidance, in July 2009, with insurance cover and administration becoming a large burden for small Landcare groups, KGLL became an umbrella organisation; one volunteer run, community-based entity. Each sub-group, including Dyers Crossing Landcare, could then focus their energies on whatever issues were of most importance to their landholders. Tim arranged all public liability and personal accident insurance and managed KGLL's legal responsibilities with the Australian Tax Office and the NSW Department of Fair Trading.
From 2008 to 2013 Great Lakes Council and KGLL were given significant funding support for water quality projects in the Wallis Lake catchment. Many of the funded activities had a strong rural focus with training workshops, on farm visits and on-ground works. In December, 2010 the NSW Local Governments and Shires Association awarded Council and KGLL the prize for 'Best Communication, Education and Empowerment'. These funded activities all required considerable financial oversight from the Treasurer, Tim Gething.
Tim's thoroughness contributed significantly to KGLL's accountability for this and other funded projects and kept the financial side of all of the groups fully documented. Tim finally retired from that role in 2013 after 8 years of being our go to person on member-ship, financial and legal matters.
I am pleased to have known Tim since 2010 when I came to live in the district. My interaction with him increased dramatically when I became President of Karuah & Great Lakes Landcare (KGLL) November, 2012. I really appreciated his attention to detail and prompt responses to my endless questions on just what was involved. Local Landcare remains on a sound footing thanks to the dedicated voluntary support from people like Tim Gething.
From Lyn Reid – Editor of 'Across the Fence'
I am adding my own small tribute to Tim.
A selfless man who was willing to give up his time to help anyone when they needed assistance with sorting out their stuff ups on computers, installing new systems and explaining the way programmes worked to slow learners (me).
He did hours of work for the Show Committee every year by keeping our section of the Nabiac Web Site up to date which involved uploading all of the individual show programmes, altering times and dates, adding and removing sponsors' names and links, changing all of the waivers whenever the ASC decided to alter them, keeping all of the Show's forms up to date, etc. and then donating the miniscule fee we paid him, to the CTC.
He talked me into putting Across the Fence on the web page and suffered my continual "I've messed up trying to up load it again" distress calls, until the penny finally dropped and I could do it.
He also was at the end of the phone for anything technical I wasn't capable of sorting out in articles sent to me in formats that I couldn't figure out for the paper.
Tim was always a happy person, nothing was too much trouble for him and I will miss his cheerful "bon homme" and help both for the Show and Across the Fence.
He was a quiet "doer" involved in many aspects of the neighbourhood that I wasn't aware of until now and will be missed by all who had the good fortune to have known him.